You end up with three-phase wiring, don't panic! Three-phase is not that complicated! While the majority of domestic installations are supplied with single-phase power, this is not the case for professional premises which, for the most part, use three-phase.
What exactly is three-phase?
As its name suggests, the three-phase is a system made up of three electric currents of the same power, the same amplitude and the same frequency. The latter circulate in a staggered manner on three different phase wires.
Three-phase is used when the installation:
requires a large lifting capacity;
causes a long operating time as in the case of intense use of a door for example.
To locate a three-phase installation, it's very simple, just look at the power wires. In three-phase equipment, there are four power wires corresponding to three phases and one neutral. Unlike, single phase equipment will only contain three wires, namely, one phase, one neutral and earth.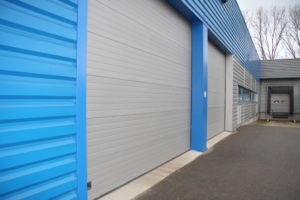 How to wire a three-phase motor?
When installing a three-phase motor, it is necessary to add electronics and install a box to control the metal door.
With the simple direct drive SIMUBOX EI motor, SIMU simplifies the installation and wiring of its control boxes. It systematically incorporates an electronic motor that does not require more wiring than a single-phase motor. Just add a keyswitch to operate the shutter.
The SIMUBOX motor or the T9 tubular motor combined with an SD350 box only allows the curtain to be raised and lowered. When you want to have additional functions or add accessories such as the management of the door opening for the platforms, the presence of warning lights or the addition of a specific security, it is necessary to use the SD510 box in association with the SIMUBOX or T9 tubular motor.
Here again, SIMU has provided for simple and intuitive wiring thanks to the memento downloadable from its site, which provides an overview of the connection diagram.
SIMU solutions
SIMU has developed complete control units, easy to install and specifically compatible with three-phase motors.
SD 350
The SD 350 control box is a basic solution for tubular motors with simple curtain open-close control. Compatible with three-phase motors, it can be used to control industrial roll-up doors and can be associated with the entire range of three-phase SIMU motors: T9 and SIMUBOX non EI.
The door is operated in a simplified manner thanks to a maintained or mixed support mode and offers the possibility of connecting a safety brake system.
SD 510
With the SD510 control unit for three-phase motor, all options are provided, just plug in as needed.
This box is suitable for motorizing curtains, metal grilles and sectional doors. It has complete functions to secure and protect access. The connection of safety accessories such as a safety edge, a flashing light or even 4 sets of cells is available.
Easy to connect, the box is pre-programmed for a secure standard configuration. An expert mode allows you to adapt to all other configurations.
Thanks to the downloadable memento, the installation of the SD510 control box is simplified by color diagrams allowing to identify the terminal blocks and to mark the wires.