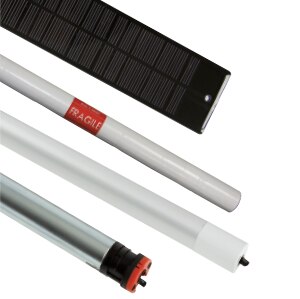 AUTOSUN 2 BHZ
100% AUTONOMOUS SOLAR SOLUTION, WITHOUT WIRING AND BHZ !
A new autonomous system with 3 new BHZ motors (bidirectional),
using the 3 current NIMH batteries such as the 2 current choices
of solar panels to motorize and be integrated into all façade or
roof roller shutters of the market.
AUTONOMOUS MOTORIZATION SYSTEM for roof and facade roller shutters,
operating with solar energy, a free, clean and renewable energy.
NO WIRING: AUTOSUN 2 BHZ does not need to be connected neither to the
electrical network nor to control points (SIMU-Hz radio technology), which
means no degradation of interior walls.
OPTIMIZED OUTPUTS: AUTOSUN 2 BHZ has been designed to run in most
geographical area.
AUTONOMY OF THE SYSTEM: 45 DAYS WITHOUT SUN, 2 cycles per day.
EC declarations
Related documents
| | |
| --- | --- |
| Document name | Link |
| Fiche produit Autosun2 Bhz FR 2021 | Download |
| Technical data sheet Autosun2 BHz EN 2021 | Download |