RSA Hz radio receiver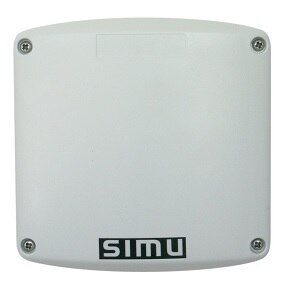 COMPLETE RADIO SOLUTION FOR ROLLING GARAGE DOOR: control of a wired motor; connection/ management of a safety brake, and/or an orange light, and of 3 safety accessories (up to 2 photocells sets and 1 safety edge)
CUSTOMIZED PROGRAMMING AND OPERATING MODE:
- 6 modes: automatic, semi-automatic, sequential, sequential with delay time, with 3 buttons (up, down and stop)
and forced with keyboard
- Adjustable time of the area lighting
- Accurate adjustment of motor operating time and closure time delays.
- Integrated cycle meter
SOLUTION COMPATIBLE with the entire range of SIMU-Hz transmitters.
SELF TESTING and diagnostic of the safety accessories at each operating cycle.
Use:
- Radio receiver for single-phase motors with mechanical end-limits (DMI5, DMI6, T5, T6)
- Managemement of safety and lighting accessories.