LiveIn2 accessories and satellites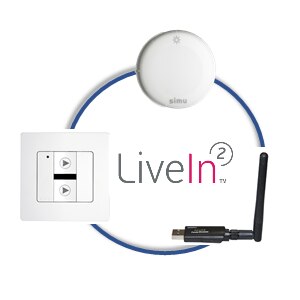 To enhance the promise of the LiveIn2 connected solution, SIMU developed a range of accessories.
-FOR THE USERS
Add a scenario transmitter to play your favourite LiveIn2 scenarios from a wall control point accessible to everyone in the house, add a sun sensor to automate your shutters according to the sunshine.
-FOR THE PROFESSIONALS
Take the advantage of the LiveIn2 wifi USB dongle to use the installer mode with full portability.