LiveIn2 - connected solution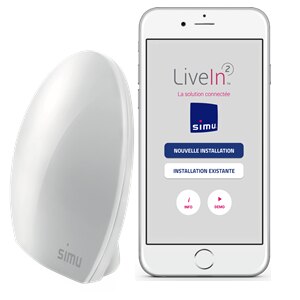 LIVEIN2, THIS IS THE SIMPLEST REMOTE CONTROL THERE IS - THE ONE THAT'S ALWAYS WITHIN EASY REACH!
For you Users:
Whether you're at home or on the move, the LiveIn2 app lets you control your home's devices with a smartphone or tablet : rolling shutters, awnings, screens; garage door, lighting …
According to your needs, you will be able to customize your installation. More than just direct control of devices, you will create scenarios, that enable you to perform a sequence of commands on several devices at the same time with a single click, or automatic orders following chosen times and conditions. You don't have to worry about your shutters, they open and close automatically for greater comfort, more safety and energy savings.
Enhanced by a compatibility with a new BHz radio range, you benefit from peace of mind of an information feedback on the status of your equipment.

For you Installers:
The LiveIn2 application offers an installer mode, without need for an account creation, flexible and intuitive, to allow you to manage all installation cases. The LiveIn2 box includes dual technology, radio Hz and the new radio BHz.
Your Hz projects are followed and are made compatible with BHz modernisation.
More information on dedicated website www.livein.simu.com
Connected solution LiveIn2 consisting of a box and a dedicated mobile app
…to control from a smartphone or a tablet SIMU radio equipments
Use :
- Home's centralization and automation of Simu-Hz and Simu-BHz equipments
- Control from the home or remote control