Centris veoHz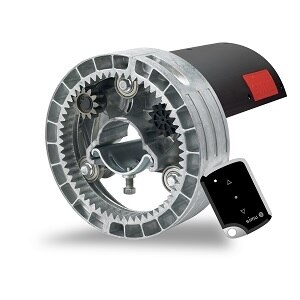 CENTRIS RELIABILITY WITH THE COMFORT OF RADIO CONTROL, IN COMPLIANCE WITH STANDARDS
• Unique on the market, the new SIMU central motor with in-built radio receiver can be controlled remotely from a SIMU veoHz radio transmitter.
• Faster installation: the control is wireless. No control box or key switch or external receiver to wire, therefore no hole in the walls or cable raceways to lay.
• Simplified setting of the limit switches from the radio transmitter. Just few clicks is all it takes to set the limit switches from the ground. No need to access the motor!
• CE compliant system, guaranteed by an "in sight" control of the motor in deadman mode.
• Secure control commands, transmitted by encrypted orders and rolling code (16 million possible combinations).
• Partial opening memorization: simply press the stop button and the shutter goes to the recorded mid-height position to show that the store is about to open.
• Detection of locked door, protecting the installation in case of unlocking oblivion.
All our CENTRIS veoHz motors are delivered with a TSA 3B veoHz remote control
Note: CENTRIS veoHz is not compatible with SIMU-Hz transmitters
A system 100% compliant with CE standards
• Embedded security software in the motor, software class B in accordance with the requirements of EN 60335-2-103.
• Limited radio range, to guarantee an in sight control of the shutter.
• Choice of control mode (deadman or mixed), for installation in accordance with standards whatever the type of curtain / grid.