SIMUDRIVE SD100HZ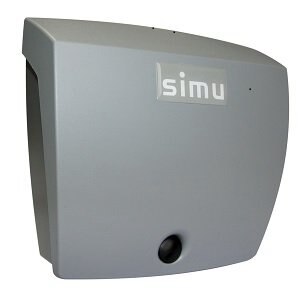 2009612
APPLICATIONS
Garage doors
RADIO CONTROL BOARD FOR ROLLING GARAGE DOORS
- Compatible with single-phase motors: SD100Hz controls rolling garage doors. It can be associated with SIMU single-phase motors < 1100W : T5, DMI5, T6, DMI6, T8, T8M, T8S,T8SDMI and CENTRIS.
- For safe installations: SD100Hz allows to connect a safety brake, a safety edge (optical or resistive), 2 sets of photocells in the bottom position, an orange flash light and/or a area lighting.
- A safe wiring: 230V area clearly separated from 24V, disconnectable terminals, and each input is clearly identified.
- Less than 2 minutes to set: 4 pre-set parameters (working mode, auxiliary output, safety edge and photocells).
- Compatible with Hz control points: SD100Hz can be controlled from TSA Hz or from SA Hz radio keypad.
Technology
Radio Frequency
433