T3.5EHZ 6/18 12V C0,25M/10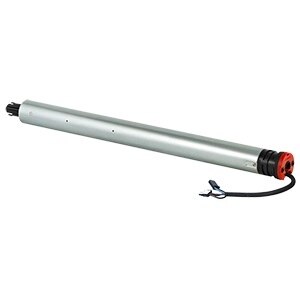 2009084
NEW 2018: Autonomous solution !

- System operating with solar energy for facade or roof roller shutters.
- COMPLETE SYSTEM WITH:
• New T3.5 E Hz DC motor:
- Connected to the battery and uses its energy to operate the shutter
- Controlled by all SIMU radio control SIMU-Hz technology (sequential and functional)
- Available in 3, 6 and 10 Nm
- Stop on obstacle and frost detection system, speed variation
- User's favorite position
• 3 choices of battery:
- Stores the energy
- Connected to the solar panel and the motor
- Is fixed by bonding or by using specific clamps
- Can be reloaded with a battery charger
• 2 choices of solar panels:
- Converts solar energy into electrical energy
- Is fixed on the roller shutter box with pop rivets, tape or even deported with specific brackets
APPLICATIONS
Roller shutters
THE SOLAR SOLUTION 100% AUTONOMOUS, WITHOUT WORK
• Autonomous motorization system for roof and facade roller shutters, operating with solar energy, a free, clean and renewable energy.
• No wiring: AUTOSUN 2 does not need to be connected neither to the electrical network nor to control points (SIMU-Hz radio technology), which means no degradation of interior walls.
• Optimized outputs: AUTOSUN 2 has been designed to run in most geographical area.
• Autonomy of the system: 45 days without sun, 2 cycles per day.
• 7 YEARS WARRANTY on the kit (motor + panel + battery)
Electrical
Nominal Voltage / Frequency
12 VDC
Mechanical
Nominal Torque
6
Nominal Speed
18