With LiveIn®, you can control your home's SIMU-Hz devices from your smartphone or tablet, at home or on the move.
LiveIn®, is a user-friendly, simple and intuitive interface, with practical functions to get exactly what you need from your home.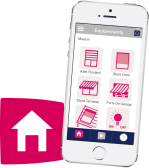 EQUIPEMENT
Control 25 devices or groups of devices live.
Customise the device names and icons.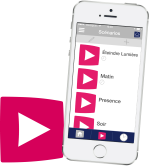 SCENARIOS
Create scenarios to perform a sequence of orders on several devices.
Up to25 customised scenarios.
Example with the "departure" scenario which closes all the shutters and switches off all the lights.
HORLOGES
Your scenarios run automatically when you are away.
Time programming, dusk function (the shutters close at nightfall), presence simulation (the opening and closing times change at random).
Up to 25 advanced programmes, that may be deactivated at any time.