Performance
High-quality products, efficient processes, a flexible and fast-reacting organisation and uncompromising product quality requirements are the key ingredients of SIMU's excellence and performance.
Product quality
100% of our motors tested during manufacture.
Product traceability.
International quality labels
(NF, VDE, UL, etc.)
Process
We are ISO9001, version 2015, certified, guaranteeing the homogeneity of our operating and manufacturing processes and long-term quality.
Our continuous improvement process is based on numerous recognised tools (5S, Short Interval Team Management, etc.) and we guarantee an ongoing improvement process.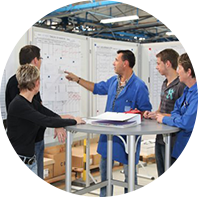 Organisation
Production is organised in extended responsibility production cells: multi-function and multi-skilled operators with command over their production and quality.
Organising our teams in project mode enables us to link the company's various sector experts through common objectives.
Development
Each new product meets a very strict set of specifications in order to comply with the standardisation requirements in the countries where it will be marketed. To ensure this, they are subjected to the most demanding tests in our integrated test laboratory covering over 1,400m²