Warranty and after sales department
SIMU guarantees its products for its professional customers against all manufacturing, design or material faults.
5 years warranty
Tubular motors,
Central motors.
GM motors.
BOX and BOX SI motors.
Electronic products.
Battery and solar panel from the AUTOSUN system sold alone
(excluding cells and batteries)
7 years warranty
Full solar solution for Roller Shutter AUTOSUN
(T3.5EHzDC motor + battery + panel)
---
You Are
The warranty conditions apply in full.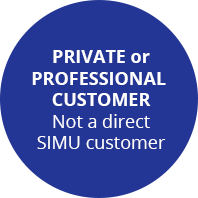 Please contact your installer or reseller to find out the warranty conditions they have set for you.
Download SIMU's general warranty conditions
---
After-sales service
A product under warranty presents a defect?
Contact us!
The SIMU after-sales service commits to repair it or replace it within 2 two weeks (starting from the date of reception of the defective product).