Warranty and after sales department
SIMU guarantees its products for its professional customers against all manufacturing, design or material faults.
5 years warranty
Tubular motors,
Central motors.
GM motors.
BOX and BOX SI motors.
Electronic products.
Battery and solar panel from the AUTOSUN system sold alone
(excluding cells and batteries)
7 years warranty
Full solar solution for Roller Shutter AUTOSUN
(T3.5EHzDC motor + battery + panel)
---
You Are
The warranty conditions apply in full.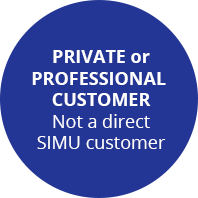 Please contact your installer or reseller to find out the warranty conditions they have set for you.
Download SIMU's general warranty conditions
---
Understanding the product identification labels
Each SIMU motor, command or controller is labelled to provide customers with all the legal and technical information they need.
These labels also guarantee the traceability of SIMU products.
Unique datamatrix and/or barcode registration systems guarantee precise traceability.
---
After-sales service
A product under warranty presents a defect?
Contact us!
The SIMU after-sales service commits to repair it or replace it within 2 weeks (starting from the date of reception of the defective product).